trying to GROW YOUR BLOG…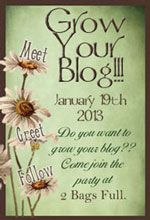 Hi I'm ARod!!
This post is actually very very (like 3 days late)late my apologies I've been a lil more crazy lately around here more so than my usual I got three/four projects going at a time kinda crazy.
I am still working hard at growing this blog & I have now partnered up & started a furniture refinishing business (it is only yet a baby business).  And of coarse there is all ways everyday life… & death…it's a part of life you can't change that.
so back to this post some about me…
I'm a mother of a very rambuctions 17 3/4 yr old.  I love her & our doggie CoCo (5 yrs old) more than life.  They make coming home a pleasure (on most days anyway hee hee)
I host a linky party on Friday's called Furry Friends Friday where you can link up any post your pet is in. Come on by sometime…
on this blog I show you all the crafty things I like to create and put up around my home….
Please stick around a little while click on a link and check out my stuff.
Thanks so much for stopping by