Sunday Social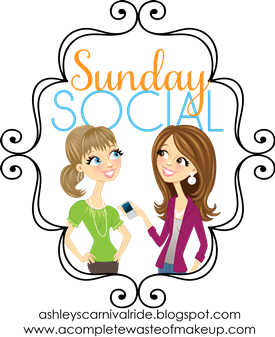 This weeks questions: We are throwing it back to week one and letting people introduce themselves to the blog world…the questions are a bit different 😉 
1. What is the name of your blog and how did you come up with it??
Makin My Apt a Home  – I think its pretty self 
explanatory
 but i moved into this apt Sept 2011 and started the blog in Dec so that is really what was going on at the time and still is AS I come up on my 1 yr anniversary living there I'm so glad i found blog land and so beyond happy with all the work it has inspired me to do in this apt
2. What do you love the most about blogging??
the fact that i have suddenly found people like myself who paint anything that 
isn't
 moving once & sometime twice now I 
don't
 feel as alone in my quest to decorate and redecorate I also feel like now i hound my family less to come see what I've created cause instead i share it here with people who want to see
3. What are your 2 favorite posts you've written?
4. What is something you'd want to tell someone just starting out in blog world?
do it if it makes you happy if it inspires you to do more of what you love if you love what you do you 
don't
 think of it as work right??
5. Biggest blogging learning experience you've had?
 It's all still so new to me and I learn something every day with every new blog i find there is just endless possibilities out there
6. Give us 3 blogs we NEED to be following that you love. 
Simply Vintagous
– Susan is a funny sweet lady and the convo's w her hubby crack me up
JCosta Photo's – a personal friend and awesome photographer go see