pallet garden dreaming

On Wednesday I told you all what I'm working on around here.  About all the projects I 'm juggling at the same time (it's a little crazy but works for me).  Well today I want to share a little more of my pallet garden dreaming.  I mean this project is well underway so not so much dreaming!  I have the crazy beautiful vision of what it will one day be.
pallet garden dreaming….
Here's the area in the backyard where I thought my pallet garden dreams could come true.  After all there's a gate where they could lean up against.  Plus I think it grants a little more privacy on our side of the yard.  So that will be another plus to this project.
My awesome sister is my wonderful partner in crime.  Not that any crime was committed in this project.  We just happen to find these pallets on the side of a road.  So as soon as we got these babies home she was wonderful enough to help me get them garden ready.
If you follow me on instagram then you saw…
Now here is what I was picturing when we tried this rust paint treatment.  In my head it was going to look like below.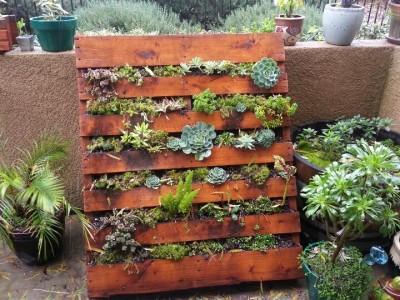 Isn't the above a wonderful color inspiration.  Unfortunately not everything turns out exactly like we picture it in our minds or on Pinterest.  lol Does it?? lol
So on to the next look I decided to go for metallic finishes cause who doesn't love a metallic?  Well besides my neighbors who are hating it right now.  I'm hoping once its all planted and pretty they will grow to love as I already do.
I love my little American flag that is already adorning my pallet garden.  Yes I even started decorating the garden and the plants aren't even in.  ha ha ha
Of coarse I do need to be held back cause in my mind we could do the whole yard in pallet stuff as below. lol
Awesome no?  But maybe I should just finish the project I've got in from on me.
Hope you all enjoyed pallet garden dreaming with me as well as the look into my pallet garden that is coming along.  Now if only mother nature would give me a break I could get it planted.